Welcome to The Matrix section of my FanFic archive. Right now I only have one fanfic written but more are soon to come... I hope you enjoy!!!
- AUTHOR'S NOTE -
If you wish to reproduce any of my work on your own website, please email me first. You are more than welcome to do so if you clearly state my name as the author and provide either a link to my website or my email. Thanks!!!
---
The Aftermath by Mel Domingo. This fanfic fills in the gap between what happened when the Neo/Trinity kiss happened and when Neo goes back into the Matrix.
Hey ya'll!!! I'd love to hear feedback about my stories! Email me here!

Mel Domingo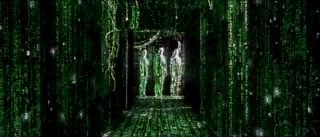 ---
GO BACK
Jadzia and Worf Fanfic| Deep Space Nine Fanfic| Voyager FanFic| About the Author|