Nickname:
Mel
Birthday:
August 11, 1982
Sign:
Leo - the brightest, most dramatic sign of them all
School and Grade:
2nd year Drama major with an emphasis in lighting design
at The University of California Irvine
home of the mighty Anteaters!!! (hehehe...)
Height:
Somewhere between 5'3" and 5'4"
Eye Color:
Brown

Hair Color:
Dark Brown... Unless I color it with a dark maroonish brown color

Siblings:
nope... I'm the one and only

Favorite Music:
Ani DiFranco kicks major booty!!!Any Sarah McLachlan songs, "Name" - Goo Goo Dolls,
"Everlong" - Foo Fighters, most dance music ( ie. Alcie Deejay ),
anything from the musicals "RENT" and "Cabaret"

Hobbies:
Tae Kwon Do and twirling around a pair of metal nunchucks
( thanks to Peter ;-P ), Dance ( Jazz and Tap ), Gymnastics,
ACTING ( of course!!! ) , singing, playing the Piano and Guitar,
hanging out in the theatre working on lighting, and of course...
writting FanFic!!!

Color:
It used to be only blue but now I LOVE red!!!

Favorite Movies:
Lost and Delirious, Moulin Rouge,
The Matrix( Trinity ROCKS!!!!! ), Bound (I'm a HUGE Wachowski brother fan... )

When I started writng FanFic:
Well, I actually started writting screenplays when I was in eighth grade ( that was
when the 4th season of DS9 and the 2nd season of Voyager were going on ). I didn't
know that was considered fanfic until I came across it in 1998. That year was
when I first started writting short story and poetic fanfic.

Why I Write FanFic:
Well, I just feel like I have soo much more power as a creative person when I can
that goes on in my head. I like the idea that I can make my own visions become
a reality through my words. It makes me feel like TPTB aren't really all that
powerful because I'm still creating the things I want to happen.

How I write FanFic:
Well, I think all creativity comes from a person's inner being. Usually I come up
with an idea for a fanfic by watching a certain episode or sometimes by
daydreaming it up when I'm in the middle of a boring lecture class. In any case,
I start from there. After that I just head to my computer and start typing.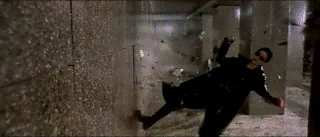 Something cool for you to see... Go TRINITY!!!!



---
|Matrix FanFic|Jadzia and Worf FanFic| Deep Space Nine FanFic|Voyager FanFic|