Facts
About
Terry
Farrell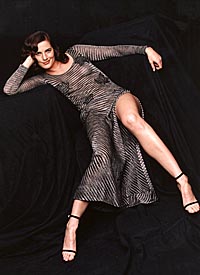 Date of Birth: November 19, 1963
Place of Birth : Cedar Rapids, Iowa
Height: 5'11 3/4"
Current Series: Reggie Kostas on "Becker"
Pets: Ramona, an akita mix and Billy, a pit bull mix

Many wouldn't belive that this beautiful and outgoing actress was once considered a "geek" and a "nerd" by her fellow classmates as she grew up in Iowa. Many would make fun of her tall stature or her ears that were one of the most prominant features on her face. After a couple of years at the local highschool, her life took a rapid change.
After being awarded Miss Photogenic in a local beauty pagent, Terry Farrell sent her pictures in to a modeling agency in New York. Shortly thereafter, She was summond and then handed a modeling contract for Elite Modelling agency. She has graced the covers of magazines such as Mademoiselle, Seventeen, Vogue, and GQ. But this fame and fortune didn't agree with Farrell. Her self esteem fell to an all-time low saying,"I never think of myself as the great-looking girl. I really had no clue as to what was going on, when I first started modelling, I didn't trust when people said , 'Oh you look beautiful,' when they're taking your picture all the time. I didn't think they meant it."
Shortly after she started studying acting and got a role in the TV series Paper Dolls.Farrell, landed other various roles in other series as a guest star. In 1994 she landed the role of Lt Jadzia Dax in the series Star Trek: Deep Space Nine. Also, Farrell continued to land roles in various tv movies such as "Reasons of the Heart" and "Legion".
After making the decision not to return to Deep Space Nine After her 6 year contract was up, Farrell auditioned for and landed the role of Reggie Kostas in Ted Danson's new sitcom "Becker". Although leaving DS9 proved somewhat difficult for Farrell, she says that her expiriences have made her even stronger.
---
Film
Biography
Television Roles and Appearances

1. 1998 Becker: Regina "Reggie" Kosatas
2. 1998 Legion
3.1997 Reason of the Heart
4. 1996 Talk Soup - Actress: plays herself
5. 1993 Star - Actress : Elizabeth
6. 1993 Star Trek: Deep space Nine - Actress : LTCmdr Jadzia Dax
7.1993 Red sun rising - actress: Det. Karen Ryder
8.1992 Hellraiser III : Hell on earth - Actress: Joey Summerskill
9. 1992 Quantem Leap - actress: Navy Nurse Lt. Lisa
10. 1989 The New Twilight Zone - actress: "the manequin"
11. 1986 Back to School - actress: Valarie
12.1986 Off the Mark - Actress: Jenell Johnson
13. 1986 Family Ties - actress: Liz Oberman
14. 1984 Paper Dolls - actress: Laurie Caswell
15.1984 The Cosby show - actress
16. 1983 Off the Wall - actress
17. 1983 Porfolio - actress: Elite Model
18. ???? Mimi and Me - actress

---
GO BACK